You like to win, right?  We thought you did!  WTLO has contests going on at any time, so check back often to see how you can win.
Congratulations to our ticket winner
Congratulations to Andy Bishop from Eubank!  Andy won our UK football tickets.  Go Big Blue, and way to go, Andy!
We had 2 winners for the Cincinnati Reds Prize Pack
WTLO and our great contest sponsors gave away 2 CINCINNATI REDS PRIZE PACKS in AUGUST.  Each prize pack contained:
*4 tickets to a REDS home game
*4 Reds Bobbleheads, and more.   
Congratulations to our winners!
Gary Hollis from Whitley City (pictured) and Sandra Blaire from Nancy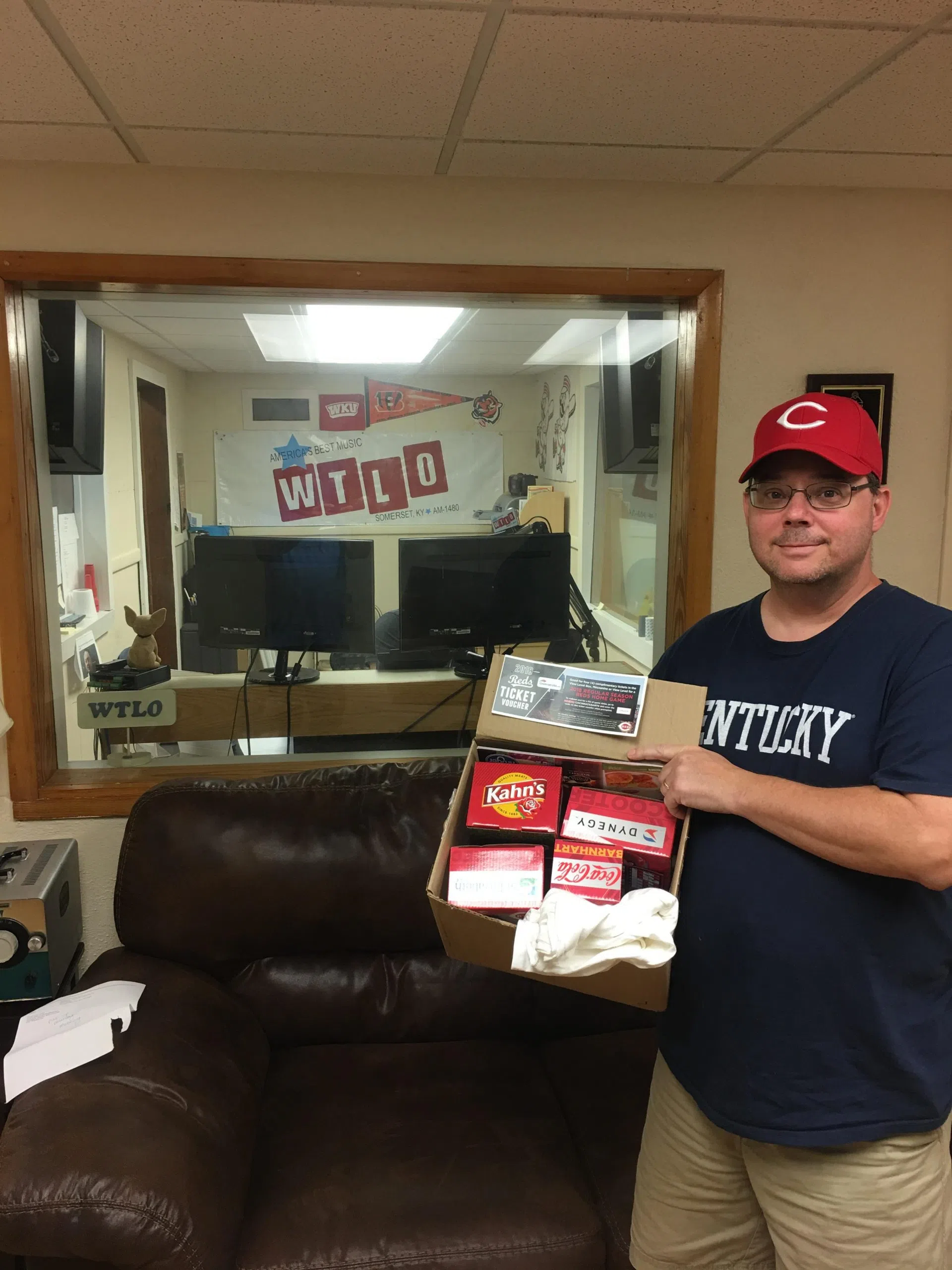 Don't forget to thank our contest sponsors for giving you a change to win BIG:
Cook Floor Covering
Crown Events, Wedding, and Bakery Supplies
Randall D. Turpin CPA
Somerset Boots
North 27 Antique Mall
Danville Office Equipment
Someone WON 6 Tickets to the Quaker State 400
Somerset 106 and WTLO gave away 6 tickets to the Monster Energy NASCAR Cup Series 2018 Quaker State 400!
Congratulations to Darrel Davenport!
Special Thanks to our Contest Sponsors
L&N Federal Credit Union
Melissa Rookard,  Independent Avon and Rada Consultant
Leslie's Tire, LLC
Sweet 16 Tickets Giveway Winner Announced
They won tickets to all the games!
Congratulations to Corbett and Sarah Brock from Waynesburg, Kentucky – they won the Sweet 16 Boys Basketball Tournament tickets to EACH game in the tournament!  The games will be held at Rupp Arena in Lexington March 14th through the 18th!  Enjoy the games, Corbett and Sarah!
Ticket winner Corbett Brock
Special thanks to our contest sponsors…
Monticello Banking Company
Compton's Custom Countertops
Leslie's Tire
The Pulaski County Recycling Center
Southern Performance Center
Citizens Bank-stoplight 13 across from Cracker Barrel
St. Patrick's Day $100 Cash Giveaway
Congratulations to Johnathon Whitson of Somerset!  He won $100 in our St. Patrick's Day Cast Contest.  Spend the money wisely, Johnathon, and thanks for listening to WTLO 1480 AM and 97.7 FM!
Johnathon Whitson and Benjamin Franklin
Special thanks to our contest sponsors…
Randall D. Turpin CPA
Honey Baked Ham
Danville Office Equipment
North 27 Antique Mall
Ruckel's Restaurant and Pay Lake
Crown Wedding-Event-and Bakery Supplies
Somerset Boots
The Magic Vapor Shop
Rebecca L. Cox CPA
Cook Floor Covering LLC